WELCOME TO USBMODMENU.COM
Your #1 source of USB Mod Menus on the internet.
We provide a wide variety of Mod Menus for GTA 5, Call of Duty, Apex Legends and many other games.
Our cheats were developed to run on the most popular gaming consoles – Xbox One, PS4, Xbox Series S|X and PS5.
Try it once and you won't be disappointed!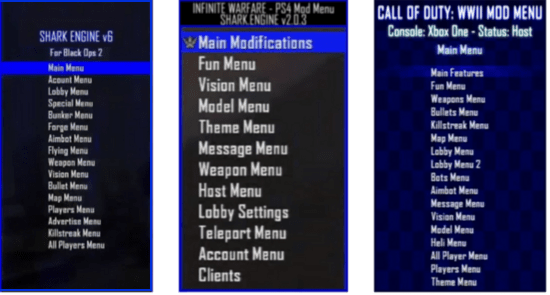 Quality Cheats
The most advanced Mod Menus you have ever seen. Destroy any other modder in a 1v1 match!
Online Safety
We bring you features that nobody else has and Anti-Bans that works flawlessly!
Clean Design
We spent months perfecting our Mod Menus layout to ensure everything is in the right place!
User Friendly
Never modded before? No problem. All of our mods are noob-friendly and easy to install!
Talk to us
Feel free to contact us if you need help setting up a specific USB Mod Menu or simply want to give us your feedback about it. Tell us how we can improve our mods!